★ Owl ★
Owner
Server Head Admin
Moderator
[SRB] Server Admin
VIP
Verified Member
Registered
Hello

★OaO★

community members
in this thread we will try to cover the most common game problems and their fix
this thread will be

updated regularly

to make an

Archive

for all the common problems and their fix
if there is a game problem that not listed here , please send me a

PM

and we will try to find the right fix and add it here
Problem

: CSGO skins doesnt show in game


Fix

: Go to your game folder and find a file called rev.
edit it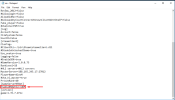 scroll down untill you see EnableNSNetSvc
if it set to both , set it to UDP
and if its set to UDP , Set it to both
then u can see your skins in game again
Problem

: Missing Stickers, graffiti's ,skins in inventory


Fix

:check this tutorial
https://cswarzone.com/forums/threads/all-skins-2017-stickers.4924/ (All skins + 2017 Stickers)
Problem

:UPDATE FAILED/FAILED TO UPDATE GAME"


Fix

:Make sure that while you are updating, your antivirus is turned off, and also all anti-spyware software that you have are turned off (Windows Defender, etc.).
make sure your firewall is not blocking internet connection with the updater
recommended to turn it off completly before updating
and make sure that u have enough space on hard drive where u downloading CSGO Warzone
Problem

: Cant join a server and shows Searching..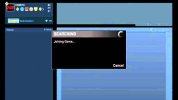 there is no fix for this ... This means that the server doesn't allow non-steam clients to join, so there is nothing you can do about this but to search for another server. The server you're trying to join is steam-only.
Problem

: cant join a server and the console shows server is running an older version, client version xxxxx, server version yyyyy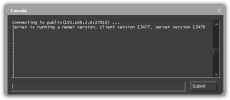 Fix

: there is no fix from the players side for this , all u can do is to contact the server owner...


Problem:

CSGO launcher not found , do you want to start


Fix:

Delete the game , Turn off your anti-virus , disable Firewall , Download the game again, run the launcher as administrator, press verify, then play
never ever activate anti-virus or firewall they will keep deleting your csgo files and launcher.


Problem:

Error reading rev.ini/Error loading game versions! Some launcher functions will be disabled!"

Fix:


1. Go in your CS GO game folder.
2. Delete "rev.ini".
3. Start up the launcher again as administrator
4.make sure anti virus and firewall are off
5. Press Verify this will generate a new rev.ini file
Problem:
steamclient.dll is either not designed........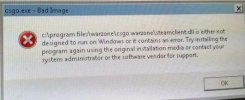 Fix:
1.Restart your PC
2. Turn off antivirus, Turn off Firewall
3. Run the launcher as administrator
4. Press Verify ( This should fix the corrupted steamclient.dll file)
5. Press Play
Problem:

GAME UPDATE FAILED , PLEASE TRY AGAIN.........
Fix:

Here is a video about all the possible fixes for this problem.
Problem:

Picture of skins not showing up in the inventory

Fix:

Go to Video Settings , And press Restore to Default